Post by zuolun on Sept 29, 2015 12:22:20 GMT 7
Western Australia eyes $160m in federal GST aid
~ 25 Sep 2015
India's finance minister Arun Jaitley confident of GST rollout by next fiscal
~ 21 Sep 2015
This idea that a GST increase would simply whack poor people is nonsense
~ 21 Jul 2015
Economic Research: PAP will increase GST to raise more revenue
~ 14 Sep 2015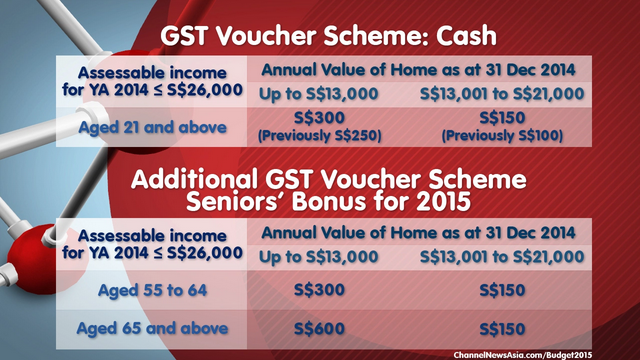 GST rate will increase with time
~ 24 Apr 2015
Malaysian GST Cantonese Song

GST hike after GE? No basis for such claims, says Gov't
~ 8 Aug 2015
PM Lee: Good things need to be paid for
~ 22 Aug 2013
GST hike 'more likely' if Govt needs to raise revenue for new initiatives
By Wong Wei Han
23 Aug 2013
SINGAPORE — The Government is unlikely to raise income tax to pay for the slew of healthcare, housing and infrastructure initiatives announced by Prime Minister Lee Hsien Loong during the National Day Rally as doing so could risk damaging Singapore's appeal for businesses and investors.
The Goods and Services Tax (GST) might instead be the first in line for an increase should the Government need to raise revenue to help build a stronger social safety net, economists have told TODAY.
"Raising income tax is not very possible if Singapore wants to remain relevant for multinational corporations and high-income global talents," UOB economist Francis Tan said.
"A more probable venue for change is the consumption tax bracket, and I do not think it's impossible for us to increase GST from the current 7 per cent to 10 per cent. For years we've been cutting income-related taxes to move towards a more consumption-based system. This is to make Singapore more attractive than other developed countries where income tax rates are much higher. I don't see us reversing this trend."
Barclays economist Joey Chew pointed out that in Deputy Prime Minister Tharman Shanmugaratnam's Budget 2012 speech, he compared the Republic's income tax levels with those of Hong Kong. Mr Tharman had said that income taxes are significantly higher at the top end of incomes compared with Hong Kong and, as result, there is a limit to how high taxes can go at the top end without hurting competitiveness.
Hence, a GST hike is more likely, said Ms Chew, adding that the Government is well-prepared should such a move prove necessary.
"GST is regressive, but the government would provide offsets to lower-middle income households, as they have done so in previous rounds of GST hikes," she said. "Now that we have the permanent GST Voucher Scheme, the offsets are even easier to implement. The groundwork has already been laid for an eventual increase in GST."
On Sunday, Mr Lee cautioned that "all good things must be paid for", either by raising taxes or cutting other spending so that future generations will not be laden with debt. This follows previous statements made by Mr Lee and other ministers suggesting that higher taxes are on the cards in Singapore after years of relatively low rates.
Regardless of how the government plans to fund the higher social spending, Singapore will not feel the pinch in the near future as it has ample financial resources to support the measures, said CIMB economist Song Seng Wun.
"Take the last fiscal year ending March 2013 as an example. Singapore's operating revenue — mainly from collection of taxes, including GST — was S$55.8 billion. Including other revenue such as land sales, the gross earning was S$80.4 billion," Mr Song said. "Of that, we spent a total of S$46.2 billion. So, we have some S$34.1 billion in surplus."
He added: "Over the longer run, as our population ages, Singapore's operating revenue might shrink, and spending rise — only then would we need to increase tax, in which case I think the government will more likely focus on GST ... Overall, I don't see our business attractiveness or growth potential getting diminished (by the new measures)."
Ultimately, tax rates are just one of the determinants of Singapore's business potential, said Mr Tay Hong Beng, KPMG's head of tax in Singapore. "Investors also look at other factors such as political stability, business infrastructure and the ease of doing business," Mr Tay said.
It is also possible for the Government to increase revenue without raising tax rates, he added, by improving Singapore's competitiveness in the global marketplace. "(This will) lead to rising incomes, and hence tax collections."