Post by zuolun on May 17, 2014 7:43:05 GMT 7
What does CNH stand for? What is the difference between CNY and CNH?
CNH stands for the offshore RMB (Chinese Yuan) traded outside the mainland China, mostly in HongKong. CNY is the Yuan traded within mainland China. Thus CNY and CNH both refer to the Chinese currency, Yuan (RMB). One major difference between CNY and CNH is that the exchange rate of offshore Yuan CNH is floating and impacted majorly by the private demand of the Yuan. Instead, CNY's exchange rate against foreign currencies will be more subject to the national currency policy. Generally speaking, the value of offshore money CNH is little more than that of the CNY due to the excess market demand as well as the strong Yuan status.
China is manipulating its undervalued
Renminbi
to get a trade advantage — Until 2005, the value of the renminbi was pegged to the U.S. dollar. As China pursued its historical transition from central planning to a market economy, and increased its participation in foreign trade, the renminbi was devalued to increase the competitiveness of Chinese industry. It has previously been claimed that
the renminbi's official exchange rate was undervalued by as much as 37.5%
against its purchasing power parity. More recently, however, appreciation actions by the Chinese government, as well as quantitative easing measures taken by the Federal Reserve and other major central banks, have caused the renminbi to be within as little as 8% of its equilibrium value by the second half of 2012.
China's exchange-rate-policy
—
The RMB, CNY, CNH…
China's offshore RMB market an overview for managers and financial personnel
The falling yuan
— 2 May 2014
Impact of the CNY and CNH exchange rates on regional currency markets
— 2 May 2014
A $700 billion Chinese mystery
— 24 Apr 2014
10 years and counting - a decade of offshore Renminbi business
— 28 Feb 2014
China targets speculators as yuan slides again
— 28 Feb 2014
China's attack on yuan speculators risks backfiring
— 26 Feb 2014
An Introduction To How China's Offshore Renminbi Market Works
— 22 Feb 2014
How To Arbitrage The People's Bank Of China
— 21 May 2013
Direct exchange between Chinese Yuan and Australian Dollar beginning on April 10
— 9 Apr 2013
CNH: Opportunities in forwards and options
— 23 Mar 2013
Fast facts: offshore RMB bond market
— 4 Feb 2013
Chinese Currency Manipulation
— 16 Oct 2011
How successful is China's currency manipulation?
— 15 Oct 2010
Why is Chinese currency undervalued?
— 18 Jun 2009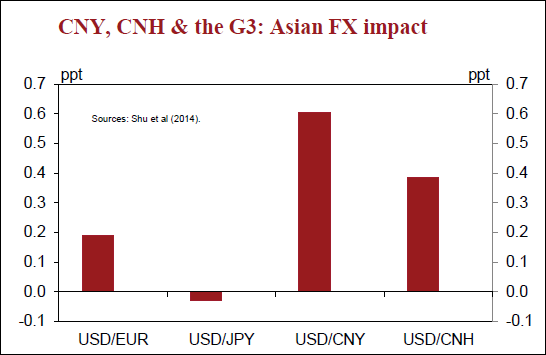 Yuan Exchange Rate (per USD), 1981-2013 (Monthly)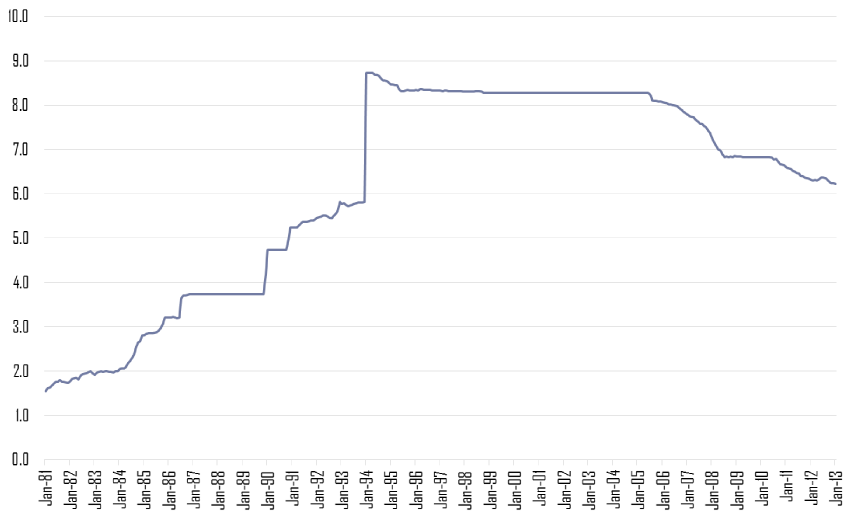 RMB Devaluation vs. Chinese Property Market
— 20 Mar 2014
人民币内贬外升对得起谁?
— 24 Dec 2013
China's RMB Exchange Rate With Dollar Rises, But Devalues Internally
— 12 Nov 2013
The Renminbi's Role in the Global Monetary System
— 8 Feb 2012

China Sells $48B of U.S. Bonds
— 21 Feb 2014
China just sold almost $50 billion in US Treasurys…
— 18 Feb 2014
China Sold Second-Largest Amount Ever Of US Treasurys In December
— 18 Feb 2014

China foreign exchange reserves topped US$3.8 trillion in 2013
— 15 Jan 2014
Yuan Set to Hit 6 vs. Dollar This Year
— 15 Jan 2014
The yuan has risen 30% since 2003
— 23 July 2013
The Macroeconomic Impacts of Chinese Currency Appreciation on China and the Rest of World
— Apr 2012
The story of exchange rate movement by China and its impact on USA economy
— June 2011
The economic impact of the Chinese Yuan revaluation
— July 2006