Post by zuolun on Jan 7, 2015 4:20:42 GMT 7
Evergreen Fibreboard (5101)
—
Company's Official Website
Evergreen: Stock With Momentum
— 2 Jan 2015
Evergreen: Qarterly results for the financial period ended 30 Sep 2014
— 21 Nov 2014
Evergreen: Quarterly Data Jun 2012 — Sep 2014
Evergreen: UOBKH BUY TP RM0.65, RM0.705
— 12 Aug 2014
Evergreen
—
Trading in an upward sloping channel, interim TP RM0.68, next TP RM0.77
Evergreen closed with a bullish piercing pattern @ 0.635
(+0.025, +4.10%)
with volume done at 2.27m shares on 6 Jan 2015.
Immediate support @ 0.59, the 61.8% Fibo level, next support @ 0.57, the 50% Fibo level.
Immediate resistance @ 0.665, next resistance @ 0.68, the last peak scored on 18 Aug 2014.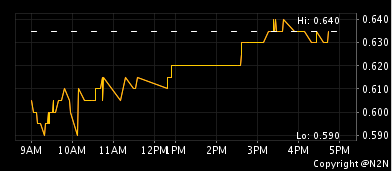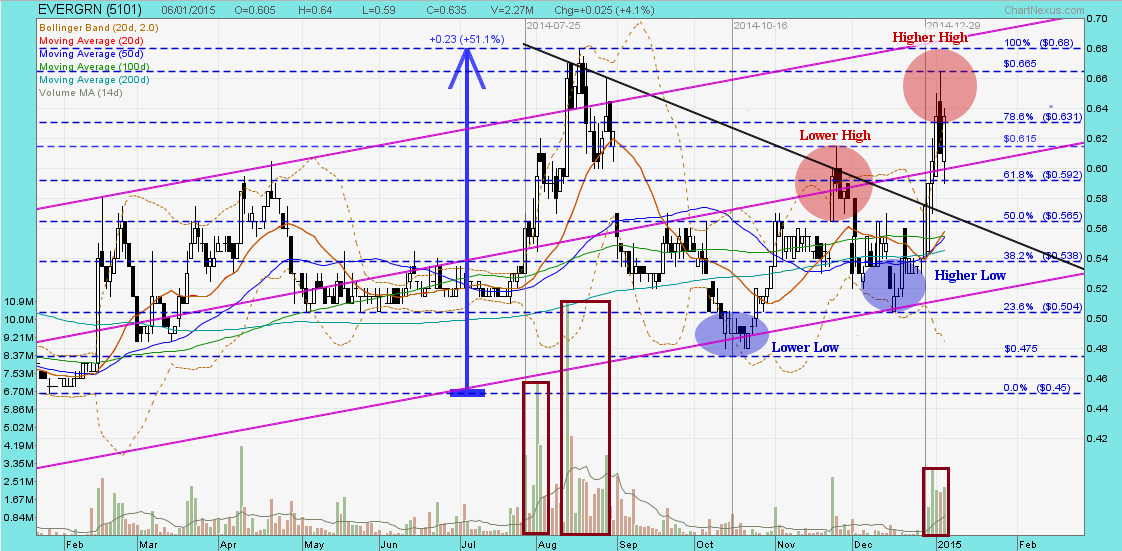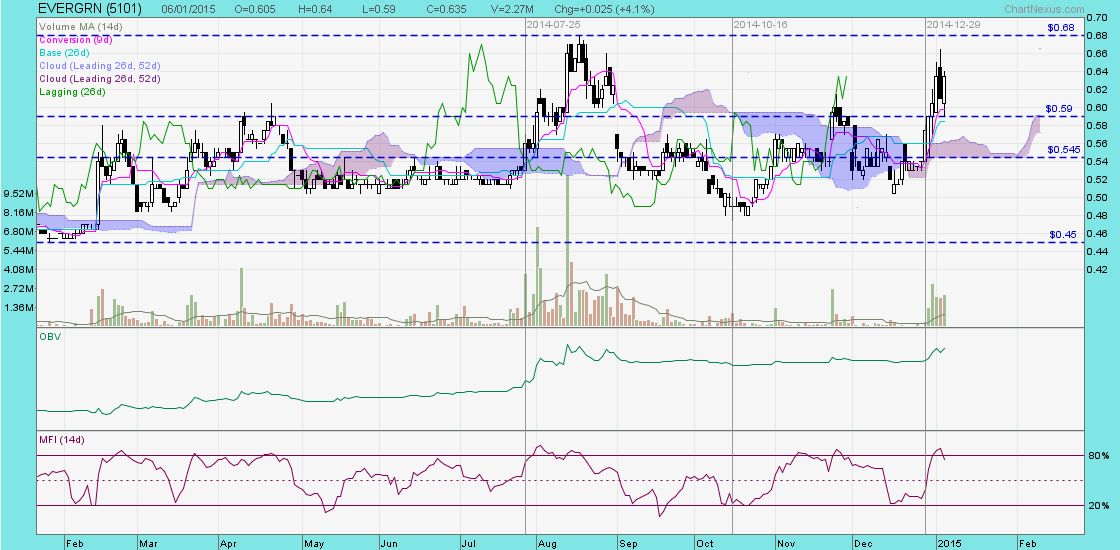 Evergreen
(weekly Jan 2012 to 6 Jan 2015)
—
Saucer Formation
Stocks that exhibit certain chart patterns
(Cup and Handle, Double Bottom and Flat Base)
can lead to strong price appreciation when they breakout on strong volume.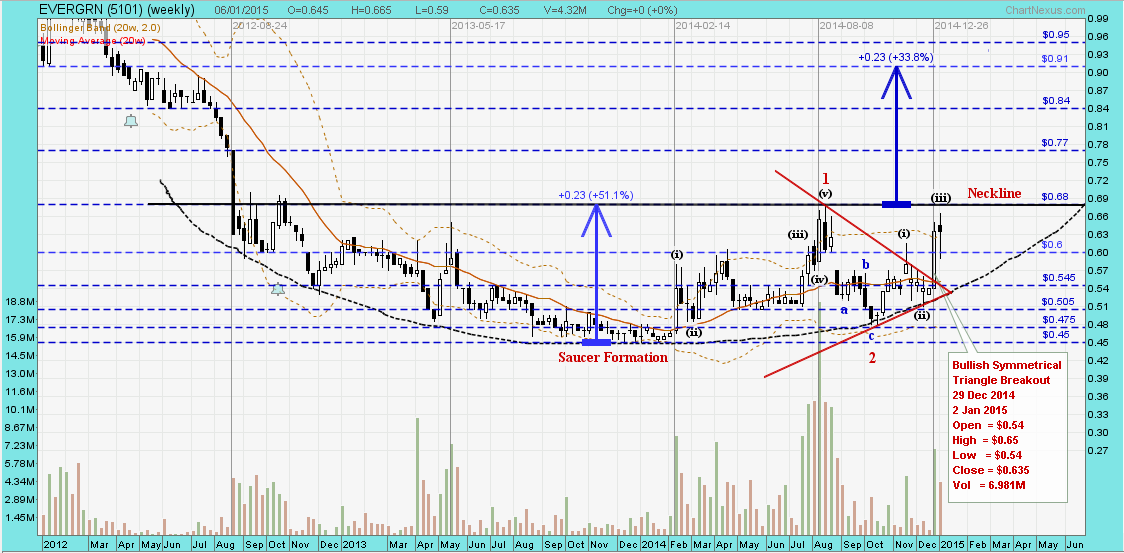 Evergreen Fibreboard returns to profitability in 3Q
By Supriya Surendran
21 Nov 2014
KUALA LUMPUR: Evergreen Fibreboard Bhd, a leading medium density fibreboards (MDF) and particleboards in Asia, returned to the black due to lower input costs, after it had been in the red for seven consecutive financial quarters.
The MDF maker announced net profit of RM10.08 million, compared with net loss of RM8.13 million in the previous corresponding period. The company's earnings were boosted by lower log and glue cost, according to its announcement to Bursa Malaysia.
Evergreen's revenue came in slightly lower at RM234.49 million in 3QFY14, from RM233.98 million in 3QFY13, which the group attributed to a higher average selling price for its products.
Earnings per share (EPS) for 3QFY14 was at 1.96 sen per share, compared with loss per share of 1.59 sen in the previous corresponding quarter.
Third quarter's earnings has helped to narrow the company's accumulative losses for the nine months ended Sept 30, 2014 (9MFY14). It posted net loss of RM14.19 million, which was a 60.5% improvement to its net loss of RM36.03 million recorded in the previous corresponding period.
Revenue for 9MFY14 was up marginally by 0.5% to RM689.82 million, as compared to RM686.62 million a year ago, which the group attributed to the increase in average selling price of its MDF products.
Loss per share for the nine month period narrowed to 2.77 sen in 9MFY14, from 7.02 sen in the same period a year ago.
Evergreen share price dropped 0.5 sen to 54 sen, with a market capitalisation of RM277.01 million.
-----------------------------------------------------------------------------------------------------------------------------------------------------------------------------------------------
Evergreen's Top 30 SSHs as at 31 Mar 2014:Major SSH, Lembaga Tabung Haji holds 7.59% as at 8 Mar 2014.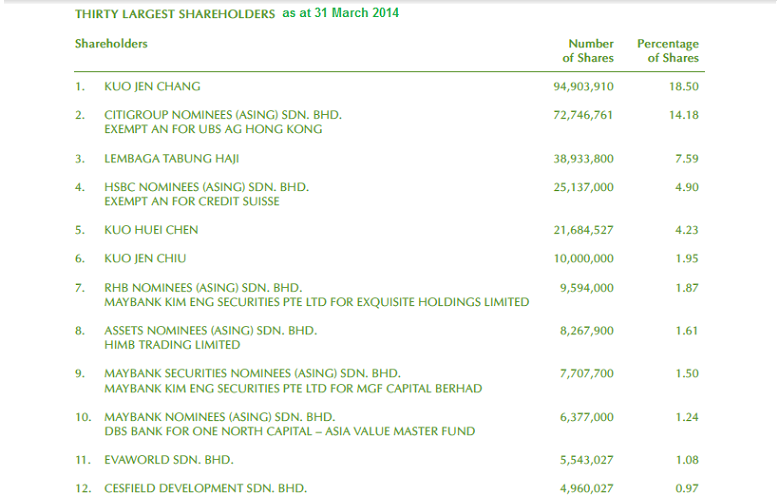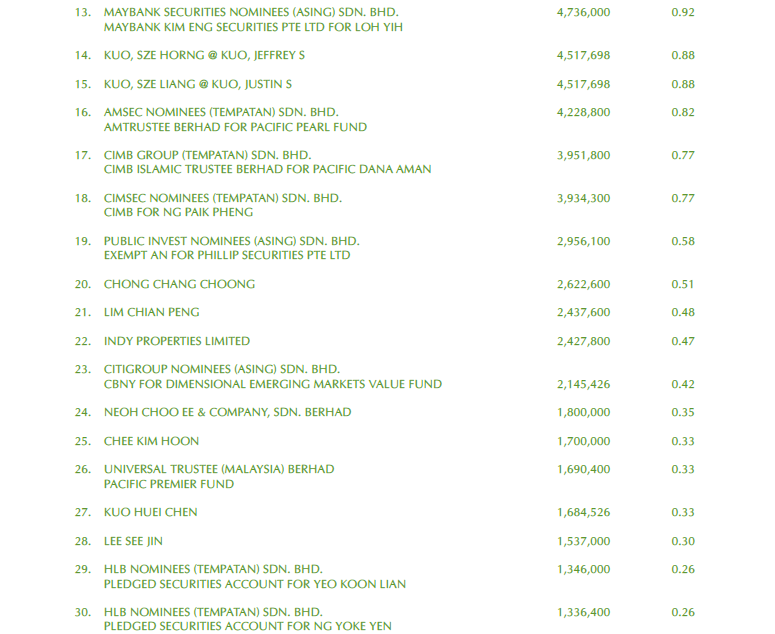 Evergreen's SSHs as at 29 May 2012:
Major SSH, Lembaga Tabung Haji holds 6.45% as at 29 May 2012.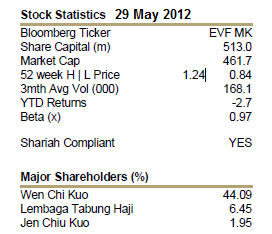 Evergreen's SSHs as at 24 May 2011:
1. Kuo Family 42.3%.
2. LTH pared down from 7.0% to 2.9%.
3. EPF pared down to 2.3%.
4. Quek Leng Chan pared down his bal. stake (> 5%) and ceased to be a SSH.
5. Free Float 52.5%.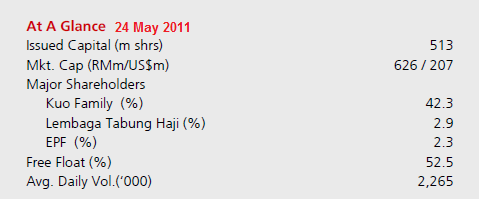 Customer Feedback - Evergreen Fibreboard (Nilai) Sdn Bhd
— 19 Nov 2013
Evergreen Fibreboard
— 28 Oct 2013
Evergreen Fibreboard: 2012 sem 3 Engineering Management Interview
— 8 Aug 2012
MDF and HDF