Post by zuolun on Oct 12, 2015 8:59:43 GMT 7
Mid-to-long-term CPO price outlook improving — Analysts
~ 12 Oct 2015
Managing the palm oil stockpile
~ 10 Oct 2015
'Half of supermarket products in S'pore contain palm oil'
~ 9 Oct 2015
Kenanga rated plantation as 'Neutral'
~ 9 Oct 2015
POST to source 100% sustainable palm oil by Dec 2016
~ 8 Oct 2015
Big palm oil's pledge to preserve forests vexes Indonesia
~ 7 Oct 2015
Kenanga: Plantation 4Q15 - 'Neutral' limited short-term catalysts
~ 7 Oct 2015
Malaysian palm oil price rises, tracking competing markets
~ 6 Oct 2015
El Nino might rescue global growth
~ 6 Oct 2015
VW diesel issue impact on CPO & prices
~ 6 Oct 2015
The Trans-Pacific Partnership
~ 6 Oct 2015
CPO impacts auction market, too
~ 5 Oct 2015
TPP Agreement will increase agri-food exports
~ 5 Oct 2015
PNB sees whether Sime can raise $1.9b without rights issue
~ 5 Oct 2015
Why India might finally begin to get its commodities game together
~ 5 Oct 2015
CIMB's rating on plantations: Neutral (no change)
~ 4 Oct 2015
El Nino causing lower coffee and crude palm oil production in Indonesia
~ 2 Oct 2015
From bear to bull, palm rally on El Nino bucks resource rout
~ 1 Oct 2015
El Nino may lead to rise in palm oil prices
~ 29 Sep 2015
Palm oil futures soar, as smog adds to El Nino worries
~ 28 Sep 2015
MP Evans, noting El Nino threat, backs palm oil price revival
~ 15 Sep 2015
FCPO Futures
as at 9 Oct 2015.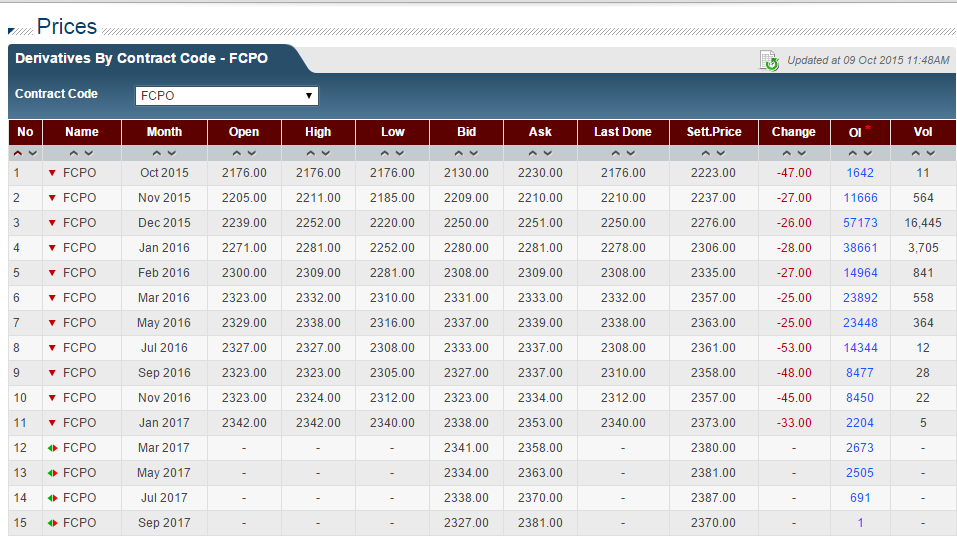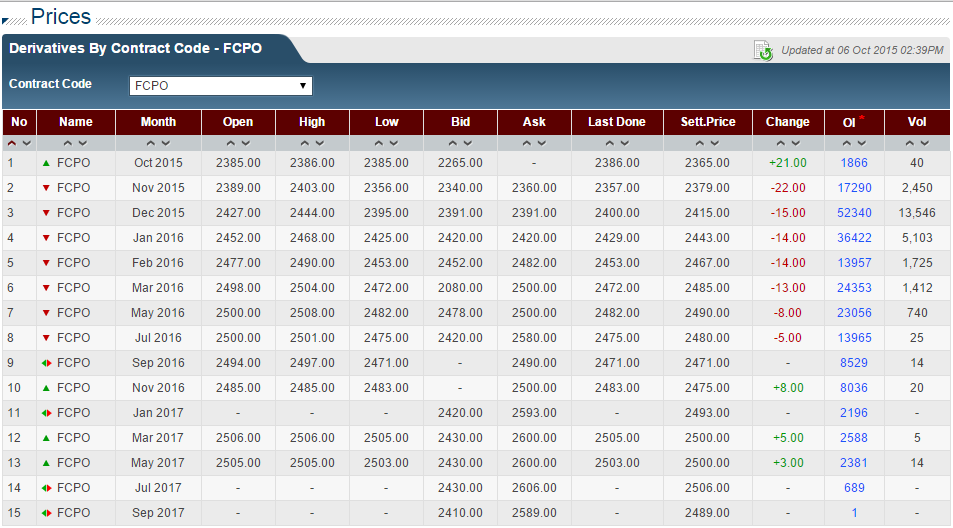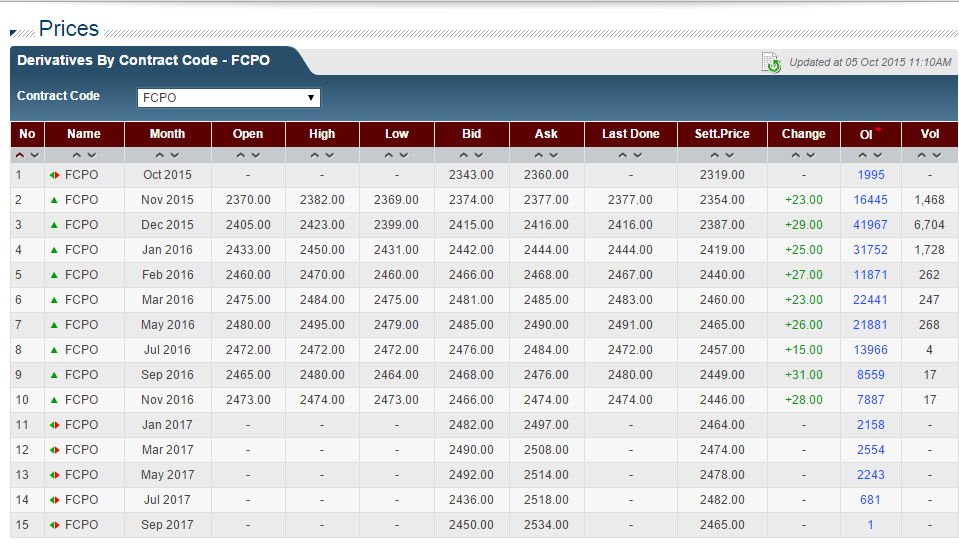 Agriculture stocks 'may enjoy cyclical upturn'
By Jacqueline Woo
9 Oct 2015
Agricultural equities could be on the cusp of a recovery as firms experience a "cyclical improvement" in the coming months, according to a report yesterday.
The palm oil and sugar segments, in particular, are expected to deliver a "modest outperformance", according to BMI Research, a subsidiary of financial information provider Fitch Group.
It is turning bullish over palm oil firms, though the operating environment remains challenging, because it believes some key factors - "higher palm oil prices and a cyclical improvement in emerging market equities" - will help push share prices higher in the short term.
"We expect palm oil prices to head higher as reduced production due to El Nino gets priced into the market during the first half of next year," said the firm.
"Moreover, some of the largest palm oil firms in our basket, such as Wilmar International and Sime Darby, are cheap by recent standards."
BMI Research said it is also confident about sugar companies, since prices are "in the process of bottoming, and will head higher as the global market turns to deficit".
"The sector will see a cyclical upturn over the coming months as a stabilising Brazilian real and rebounding sugar prices improve investor sentiment towards sugar companies," it said.
Still, it noted, share prices are likely to remain below 2011 peaks.
"We expect sugar prices to average higher over the coming years, as we forecast the market will turn to deficit next year," it said.
"Like the palm oil firms, the sugar firms in our basket are based mainly in emerging markets, whose equity indexes have rallied in recent weeks, after the United States Federal Reserve failed to raise interest rates last month."
Meanwhile, the outlook for dairy companies remains generally strong, and European chocolate firms are likely to continue posting weak performances as cocoa prices remain elevated amid slowing demand, the report noted.
The report frames an optimistic future for the global commodity industry, which has been racked by low prices amid a supply glut. These conditions have battered the world's agricultural equities, including ones listed here.
Even so, local agri-business stocks have seen a slight upturn in share prices over the past weeks.
The stocks of Golden Agri-Resources, one of the world's largest palm planters, fell 5.4 per cent to 35 cents yesterday - but they were up 18.7 per cent for the month.
Wilmar gained 7.6 per cent over the month, but its closing price of $2.82 yesterday was still far from the $5 levels seen in 2012.
At the same time, other analysts are warning that commodity prices could go lower yet.
A recent Citigroup report said the sluggish world economy makes it "hard to argue" that most prices have already bottomed.
Independent analyst Nicholas Teo told The Straits Times: "What would lead to a sustainable rebound is growth in real demand, but we've not seen any signs of that.
"Traders seem to be buying into local (agri-business) stocks using 'hot money' - it's more opportunistic, either because of the El Nino factor or from relief that the Fed has not raised rates."
He added: "Whether the rally will continue beyond that remains to be seen."