Post by zuolun on Apr 27, 2015 5:33:37 GMT 7
Click play to listen: Linc Energy facing criminal charges over alleged environmental harm
~ 16 Apr 2015
Cessation of CFO
~ 31 Mar 2015
Credit Suisse Group AG ("CSGAG") pared down 505,000 Linc Energy shares on 27 Mar 2015.
(From 11.0089% to 10.9237% or 65,250,198 to 64,745,198 shares)
Linc Energy to fight toxic gas leak claims
~ 18 Mar 2015
Linc Energy workers gas exposure confirmed
~ 17 Mar 2015
Cessation of company secretary
~ 31 Dec 2014
Why Linc Energy is being crushed
~ 8 Oct 2013
Linc Energy ~ Falling Wedge chart pattern
Linc Energy closed with a spinning top @ S$0.385
(+0.005, +1.3%)
with 3.42m shares done on 24 Apr 2015.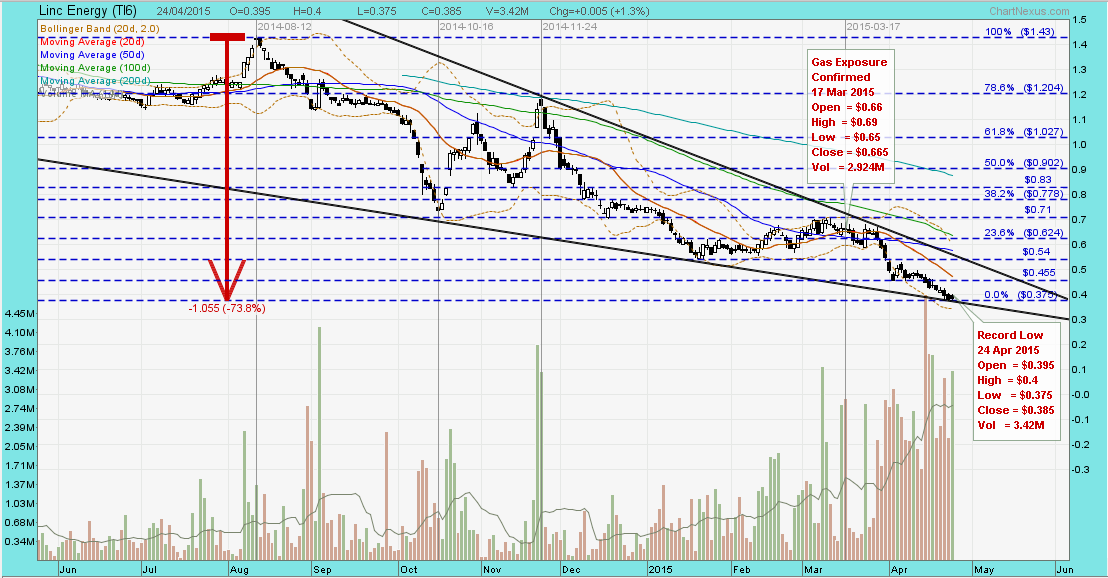 Scalping with stochastics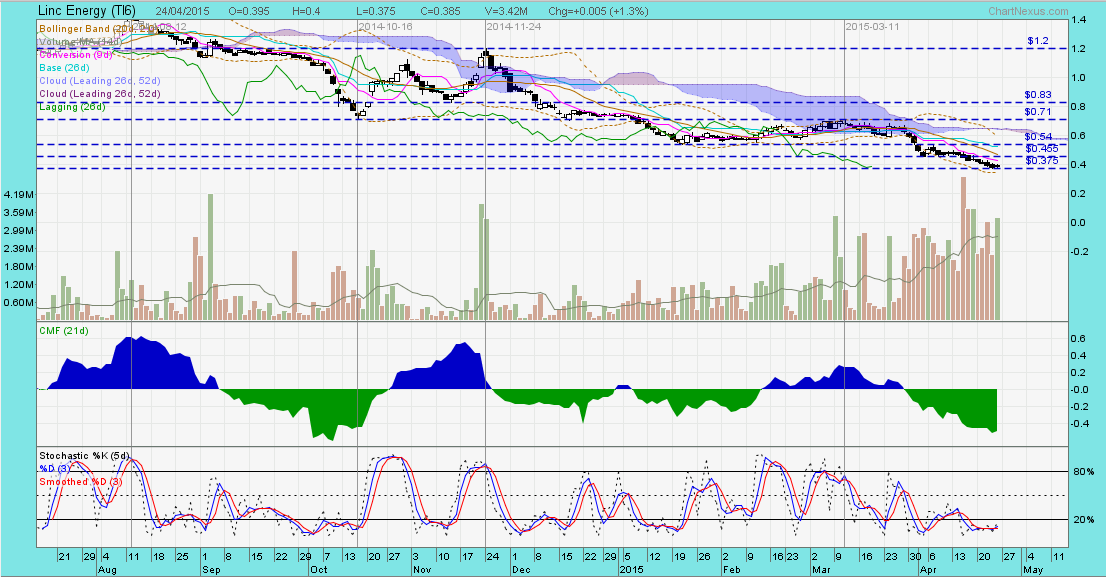 Linc Energy (weekly) ~ Riding on the corrective Wave-C down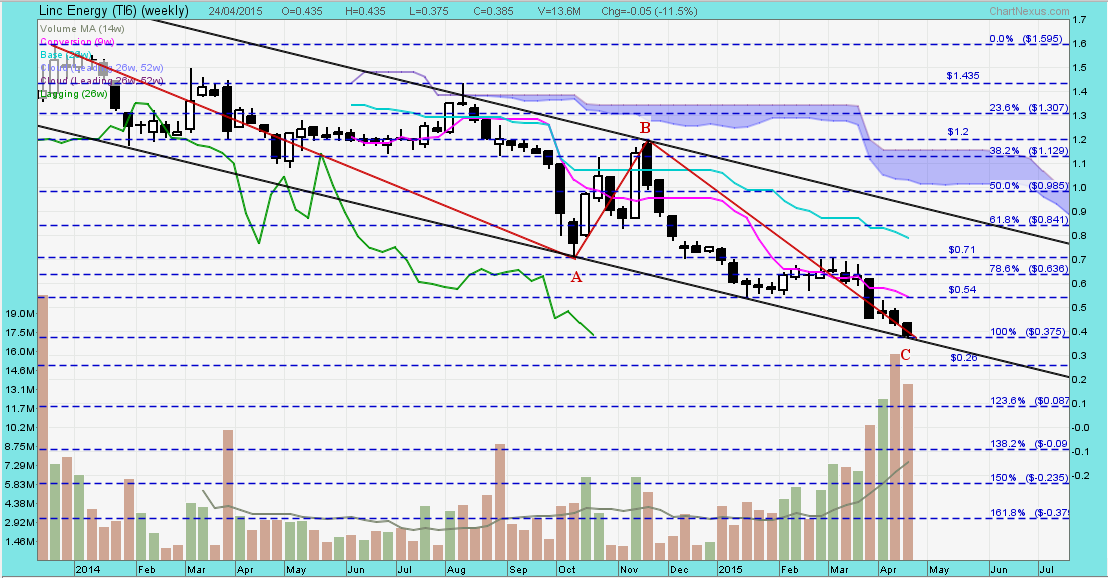 Linc Energy cut to "neutral", target slashed to 47 cents by Credit Suisse
By Frankie Ho
20 Apr 2015
SINGAPORE: Credit Suisse has downgraded Linc Energy to "neutral" from "outperform" and slashed its sum-of-parts price target to 47 cents from $1.20.
The oil and gas exploration and production firm has found itself in a "less conducive" environment, according to Credit Suisse analysts David Hewitt and Tan Shew Heng.
The company started three well-exploration campaigns in Arckaringa, South Australia, but stopped work for the third well as results were not promising, they noted.
"The data from the campaign was to augment information for a farm-in, but interest in unconventional (sources of oil) in Australia is waning," they said.
Linc Energy's underground coal gasification business is also uncertain.
Coal gasification is a process of extracting coal from the ground without mining it in the traditional sense. In a nutshell, coal is heated and transformed underground to produce a synthesis gas, which is extracted through a well and utilised for power generation or as feedstock for making liquid fuels, fertilisers or other chemical products.
"This segment could surprise on the upside; announcements of further licensing deals would be material. However, at this point, the decision to construct a facility in South Africa is still awaited, and MoUs in Russia and Ukraine have not been converted to definitive agreements," the analysts said.
Linc Energy shares ended 3.4% lower at 42 cents today.
Queensland landholders claim secrecy over experimental coal gasification plant
~ 16 Apr 2015
Fears for NSW after allegations Linc Energy exposed workers to carcinogens
~ Mar 16, 2015
Gas blowout near Chinchilla. This is the awful putrid stink that Brian Monk has been complaining about - the "Linc Stinc" caught on camera. This is what happens when you set fire to coal underground. It's called U.C.G underground coal gasification. This process emitts "Syngas" a toxic mixture of carbon monoxide and hydrogen. This is a Link Energy project. It's supposed to be shut down..
Linc gas blowout chinchilla
~ 22 Dec 2014
Linc Energy opts for $155m instead of the promise of billions of dollars down the track
— 28 Aug 2014
Linc Energy Ltd: Did tax office dispute prompt sale of Carmichael Mine royalties?
~ 29 Oct 2014